The Comprehensive training is our most extensive program and covers beginner, intermediate and advanced level exercises utilizing the Pilates apparatus - Mat, Reformer, Cadillac, Chair, Barrels, Ped-o-Pull and Magic Circle - as well as understanding how to work with Special Case clients (i.e. obesity, pregnancy, back problem, neck, knee, shoulder, etc.). You will continue to utilize and build the teaching tools learned during the Core Mat I & Core Mat II weekends. You will sharpen your eye for subtle exercise modifications and master the ability to work with people of all ages and fitness levels at the same time.

Language: English
FULL SCHEDULE
---
Purely Pilates
Comprehensive Program


Prerequisites:
Power Pilates Core Mat I & II Training programs.
25 semi private or private classical Pilates apparatus sessions.
Proof of completion of basic anatomy course within last 2 years.
---
YOUR TEACHER TRAINER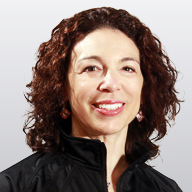 Allison Gonzalez
Allison Gonzalez is the owner of Purely Pilates, the Bay Area Power Pilates Regional Director, and is a comprehensively trained Pilates instructor through the Pilates Guild and Power Pilates. In her twenty year career as a classical ballerina, she performed with ballet and contemporary companies in France, Italy, New York, New Jersey and New Orleans.

In New Orleans, as the director of the New Orleans Ballet Ensemble, she implemented Pilates mat classes as part of the training for the company members. Allison discovered the many strength, balance and flexibility benefits Pilates has to offer while rehabilitating from a dance injury. Following twelve years of using Pilates as a form of cross training to her dancing, Allison chose to teach Pilates. She completed the instructor training program at The Pilates Studio of New York, under the guidance of Romana Kryzanowska and Bob Liekens. Allison is now a teacher trainer for Power Pilates of NYC.


Cancellations: If you withdraw from any program(s) you will automatically lose $100.00 processing fee. No refunds are issued for any reason. Students who choose to transfer programs or not to complete the training are still responsible for full payment of the program.