> INSIGHTS > TEACHING
The 2019 NYC Spring Classical Pilates Conference
By Insights Team

The 2019 Power Pilates Spring Classical Pilates Conference and Enhancement brought together many of the finest Classical educators in the industry. Hosted in New York City, the epicenter of the Pilates world, Pilates lovers from all over the world attended this unique event.

The 4-day event featured an opening cocktail party and scores of workshops designed to enhance the teaching expertise of instructors of all levels; and to help clients and Pilates lovers deepen their understanding of Classical Pilates.

This sold-out conference featured a host of Teacher Trainers, and many never before presented workshops and workouts. The presenting teachers were, Veronica Combs, Bethanie Buckingham, Kimberly Casto, Nathalie Morelli, Cheryl Turnquist, Lisa Hunsaker, Julie Hegge Cordier, Christine Nowicki, Stephanie West, Anne Marie Schultz, Aubrey Johnson, Jordana Herman, Karine Josino Cid, and Stormi Truesdell.

If you'd like more information about any of the workshops that were presented, or would like to have a workshop event at your studio, contact us for more information. For all those in attendance, if you have any questions about the credits and certificates that you earned let us know.

So what made this event so successful, check out the workshops that were presented and their descriptions here:

What We See in Footwork w/ Bethanie Buckingham
This workshop focused on Footwork on the Reformer and Chair. What you see as a teacher and what to look for. Footwork tells the instructor many things about the client and where to go with the work.

Top 10 Marketing & Retention Strategies for Pilates Pros w/ Kimberly Casto
This dynamic and interactive workshop focused on marketing and retention tactics that don't require a big budget. Attendees discovered simple yet effective strategies that you can implement right away.

Challenge and Support: How to Teach an Open Level Mat Class w/ Cheryl Turnquist
Students explored the teaching tools and teaching formulas best utilized when teaching an Open Level Mat Class. This workshop was taught in 2 parts: teaching/workout, and lecture/Q&A.

Why the Order w/ Bethanie Buckingham
Joseph Pilates didn't just throw a bunch of exercises together in a row. He placed them in specific order for a reason. We reviewed how each exercise builds on the next, and examined the exercises that prepare and strengthen the body prior to performing the advanced mat exercises. There was also discussion about both muscle recruitment and planes of movement.

Arm/Baby Chair Basics w/ Julie Hegge Cordier
The Baby Chair, also known as the Arm Chair can pack a powerful punch. Don't let the name deceive you! In this workshop students learned some of the basic exercises of this underused and less familiar apparatus. Students felt their secondary powerhouse and opposition in no time!

Empowering Your Pregnancy w/ Christine Nowicki
This workshop addressed the anatomical changes that occur during pregnancy. These changes necessitate a restructuring of the Power Pilates workout; including both mat and apparatus work. Following a brief overview of the physiological effects on the body, the class format was a sequential workout that is appropriate and safe, yet still interesting and challenging for the pregnant client. We learned the necessary tools to work with this population. An important aspect of this workshop was cueing.

Small Barrel and Spine Corrector (With Extended Vocabulary) w/ Lisa Hunsaker
The Spine Corrector, dusty and long forgotten in the corner of your studio, has many great uses. We learned how to incorporate it into our Mat work and how to use it for "Individual Needs." In addition to the Spine Corrector, we took a look at its cousins, the Small Barrel and the Ladder Barrel.

Strategies for Teaching Semi-Private Sessions w/ Stephanie West
Develop a method to the madness! Teaching semi-privates sessions can be fun and profitable, but you just need a game plan. This workshop helped attendees devise a strategy or strategies that will now help them feel at ease, organized and in control when teaching a semi-private session, all the while offering each individual client a sufficient workout.

Beginner Tower System w/ Julie Hegge Cordier
We reviewed both beginner mat and wall unit exercises appropriate for a beginner level tower class. We learned how to organize a beginner level tower class as well as how to make it fun, challenging and safe for all participants. Attendees were taken through a beginner level tower class, and receive handouts to guide their clients. We left prepared to teach.

Special Cases: Mat Class w/ Anne Marie Schultz
Nobody's perfect, right? Right! This class covered the beginner/intermediate mat exercises with safe and effective strategies and modifications for clients with special needs. We reviewed specific modifications for low back pain, knee injuries, shoulder pain, neck issues, osteoporosis and pregnancy. Students left with new tools for their Power Pilates toolkit!

Jumpboard w/ Jordana Herman
More than the ordinary challenge! In this workshop participants learned or reviewed Jumpboard exercises suited for advanced clientele. The Jumpboard offers an element of cardio with another challenge for the Powerhouse.

People Lie, but Bodies Don't w/ Aubrey Johnson
So many times clients come to us with an idea about what they expect or need in a session even before they've had their first lesson. How do you handle these situations? In this workshop participants learned the importance of listening to what their bodies are telling you versus what their mouths are saying. Of course it is important to hear their words at times, but what's crucial is to see beyond the words and into their bodies. Actions speak louder than their words. This workshop also helped shed light on how the "Individual Needs" portion of a session can become the focus of an entire lesson.

How to Format a One Hour Wunda Chair Session w/ Veronica Combs
During this workshop students learned the methodology behind creating a full session on the Wunda Chair.

Super Advanced and Archival Reformer Syllabus w/ Anne Marie Schultz
We all know that there are more than the advanced level exercises that we practice and teach. We never get to see, let alone practice what is "next." What else is there? The super advanced level exercises! Karine explored the next steps for many reformer exercises, advanced variations, and some archival finds.



Some sights from the conference: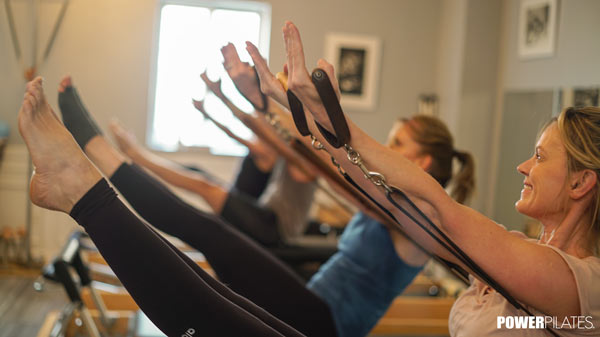 Monica Plewes teases gravity on the reformer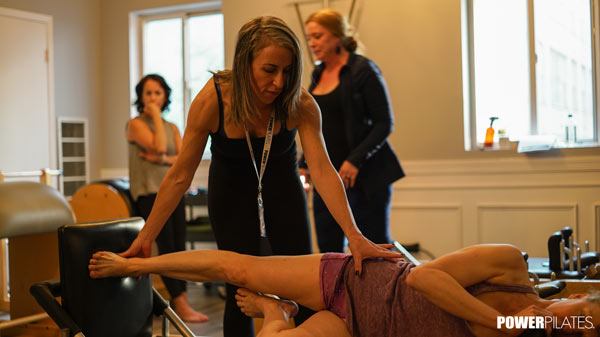 Jordana Herman adjusts a student in her Jumpboard workshop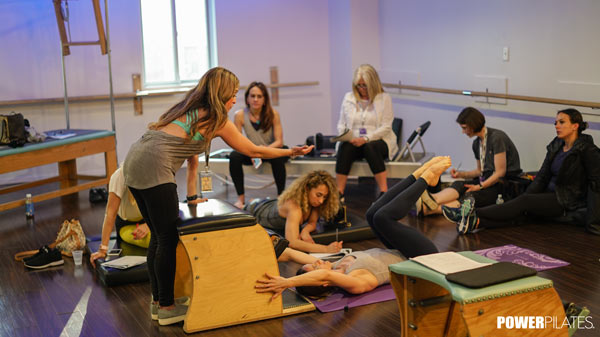 Veronica Combs cues student while explaining how to create a one hour Wunda Chair session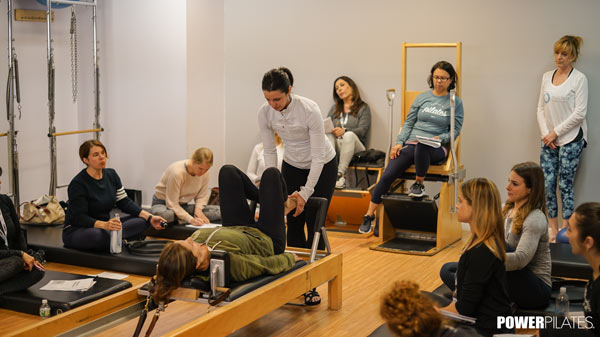 Aubrey Johnson provides instructions for cueing clients' footwork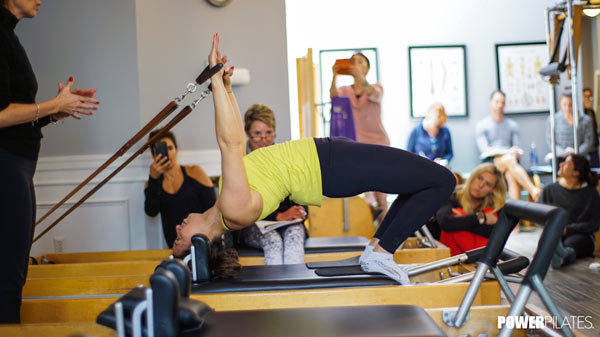 Nathalie Morelli shows off her Advanced practice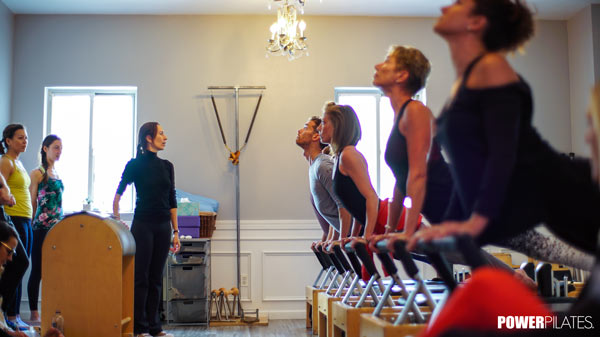 Karine Cid giving an extreme calorie-burning semi-private session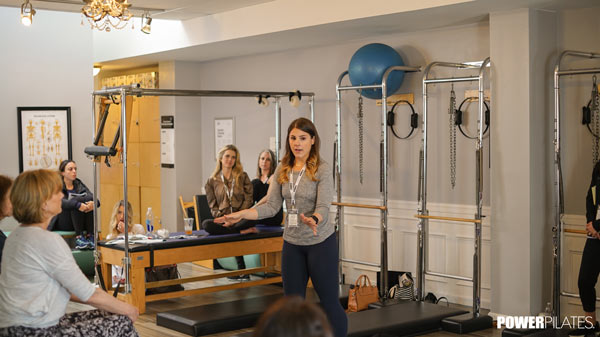 Stephanie West shares a story to illustrate how to help clients progress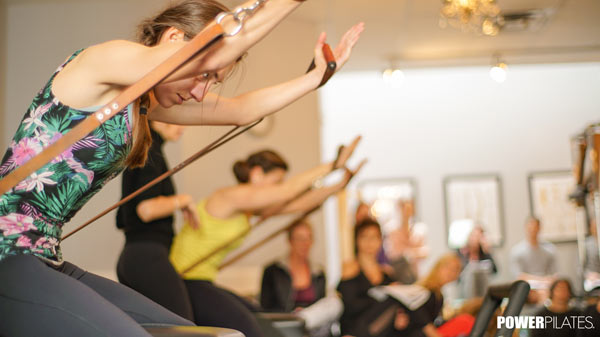 Everyone participates and gets moving at conference workshops
Stormi Truesdell and her class participants strike a pose after an intense morning mat workout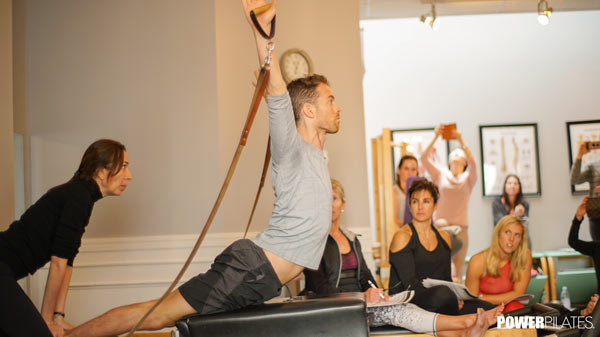 Karine Cid cues Daniel Gaouette on the longbox

Wanna attend a live conference near you and earn CE credits? Check out our upcoming conferences and sign up today!
Wanna host a conference at your studio?
No problem. Contact us today and we'll help you set that up.