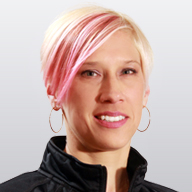 Susan Smith Burns
Susan Smith Burns was first introduced to The Pilates Method in 1999 while completing her Master of Science degree in Health Fitness Management at The American University in Washington, DC. What started as a new and different way to work out quickly turned into a favorite activity, as Susan found herself spending more and more time in the Pilates room of the studio where she worked as a personal trainer and Spinning instructor. Although her initial aspirations upon graduation were to tackle the public policy side of healthcare, the more she used the Method for her personal health and wellness goals, the more she longed to share her passion with others. Completion of a Beginner Mat training program led to a full apparatus training program and the founding of balance, Your Pilates, Yoga & Gyrotonic Studio in January 2001.
As word spread and more people learned of the profound benefits of Pilates, Yoga and Gyrotonic exercise, Balance Studio quickly outgrew its small space in Rockville, MD and expanded to a second location in Bethesda, MD, just outside of Washington, DC. In January 2005, the Bethesda studio moved to its current location and doubled in size again three years later. The Rockville studio was moved to a larger location in November 2007.
A friend introduced Susan to Power Pilates in 2004 and it was love at first sight. She became a Power Pilates instructor in 2005 and was invited to be a Power Pilates Teacher Trainer in 2010. Balance Studio has been a host studio for Power Pilates instructor training programs since 2004. Susan has also been a certified instructor in the GYROTONIC Expansion System since 2005.