The Mat Intensive includes Core Mat I & II.

The Core Mat I (Beginner Mat level) program is the foundation of the Power Pilates method. Each subsequent program builds upon the information learned during this course. During this weekend you will learn to teach the 18 beginner level mat exercises and be introduced to Power Pilates teaching tools, philosophy, and teaching formula. Every student new to Power Pilates must start with Core Mat I.

During the Core Mat II (Intermediate Mat level) weekend, you will learn 12 intermediate level exercises, including where to add them within the sequence of the beginner level mat class, and continue to work on your teaching skills. Our students say that "everything starts to click" during the Core Mat II weekend. Completing the Core Mat II weekend expands the range of clients you can work with and strengthens your teaching ability. Core Mat I & II are required to progress to the Comprehensive program.

Language: English
FULL SCHEDULE
---
Balance Moves
Mat Intensive w/ Marcia Hagemann


The Mat Intensive incldues Core Mat I & II .

The Core Mat I (Beginner Mat level) program is the foundation of the Power Pilates method. Each subsequent program builds upon the information learned during this course. During this weekend you will learn to teach the 18 beginner level mat exercises and be introduced to Power Pilates teaching tools, philosophy, and teaching formula. Every student new to Power Pilates must start with Core Mat I.

During the Core Mat II (Intermediate Mat level) weekend, you will learn 12 intermediate level exercises, including where to add them within the sequence of the beginner level mat class, and continue to work on your teaching skills. Our students say that "everything starts to click" during the Core Mat II weekend. Completing the Core Mat II weekend expands the range of clients you can work with and strengthens your teaching ability. Core Mat I & II are required to progress to the Comprehensive program.

Prerequisites:
10 classical Pilates Beginner Mat Classes Recommended.
Recommended Reading: Chapters 1, 2, 3 & 6 of Anatomy of Movement
---
YOUR TEACHER TRAINER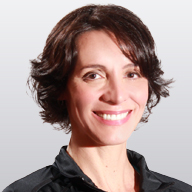 Márcia Hagemann
A native of Brazil, Marcia studied classical ballet for twenty-six years, along with fifteen years of modern ballet. During her studies, she was introduced to the discipline of Pilates and was amazed at the benefits achieved through this technique. In Brazil, she trained in Pilates for three years with Cecilia Panelli. Immediately after moving to the United States, Ḿrcia joined the Power Pilates training program at its affiliate center in Annapolis.

In 2004, Ḿrcia opened the Center of Life Pilates Studio, a Power Pilates Participating Training Center. Due to ever increasing public interest, in 2005, the studio expanded to its present location. In 2005, she became a Teacher Trainer for Power Pilates.


Cancellations: If you withdraw from any program(s) you will automatically lose $150.00 processing fee. No refunds are issued for any reason. Students who choose to transfer programs or not to complete the training are still responsible for full payment of the course.


Rain Date: October 12-16, 2018
The Alternate/Rain date is the date the program will begin in the event of unforeseen circumstances such as war, riots, fire, flood, snowstorm, hurricane, typhoon, earthquake, lightning, explosion, financial limitations, strikes, lockouts, sickness, and acts of state or governmental action prohibiting or impeding Power Pilates from performing its respective obligations.