The Comprehensive training is our most extensive program and covers beginner, intermediate and advanced level exercises utilizing the Pilates apparatus - Mat, Reformer, Cadillac, Chair, Barrels, Ped-o-Pull and Magic Circle - as well as understanding how to work with Special Case clients (i.e. obesity, pregnancy, back problem, neck, knee, shoulder, etc.). You will continue to utilize and build the teaching tools learned during the Core Mat I & Core Mat II weekends. You will sharpen your eye for subtle exercise modifications and master the ability to work with people of all ages and fitness levels at the same time.

Language: English
FULL SCHEDULE
---
Urbanfront Pilates
Comprehensive Program


Prerequisites:
Power Pilates Core Mat I & II Training programs.
25 semi private or private classical Pilates apparatus sessions.
Proof of completion of basic anatomy course within last 2 years.
---
YOUR TEACHER TRAINER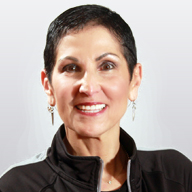 Karen Z. Pecarsky
Karen has been in the fitness industry for over 20 years. Her career in fitness began as an aerobic instructor and personal trainer, progressing to a group fitness director and program coordinator. She has designed, developed, and implemented movement programs at both ends of the spectrum; from advanced fitness levels to aquatic and land rehabilitation. In 1998, Karen began her training in the classical method of Pilates. After completing 700 Pilates method apprentice hours, she pursued the opportunity to continue and advance her studies with Power Pilates. She earned a Level 3 (advanced) certificate in both mat and apparatus. Karen is also certified (Level 2) Yamuna Body Rolling Practitioner. In addition she has studied movement anatomy with the famed Ms. Irene Dowd, and she is a member of the Pilates Method Alliance.


Cancellations: If you withdraw from any program(s) you will automatically lose $150.00 processing fee. No refunds are issued for any reason. Students who choose to transfer programs or not to complete the training are still responsible for full payment of the program.