During the Core Mat II weekend, you will learn 12 intermediate level exercises, including where to add them within the sequence of the beginner level mat class, and continue to work on your teaching skills. Our students say that "everything starts to click" during the Core Mat II weekend. Completing the Core Mat II weekend expands the range of clients you can work with and strengthens your teaching ability. Core Mat I & II are required to progress to the Comprehensive program.

Language: English
FULL SCHEDULE
---
Power Pilates NYC
Core Mat II w/ Jordana Herman
Prerequisites: Power Pilates Core Mat I Training program.
---
YOUR TEACHER TRAINER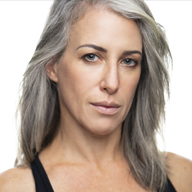 Jordana Herman
A lifelong health and fitness devotee, Jordana was looking for a smarter way to stay in shape after the birth of her son in 2001. She wanted something that not only made her look good, but feel good too. She tried Pilates and was hooked. It was the perfect combination of strengthening, stretching, connecting the mind and the body. Pilates made her feel healthier and stronger than ever - it was like finding the fountain of youth. She was so inspired she decided to make a major life change - she closed her health food store to pursue a career in Pilates. Studying with Susan Moran and Bob Liekens of Power Pilates in New York City, and Teacher Trainer Juliet Harvey in Beacon, NY only left her wanting more. In 2010, she became a Power Pilates Teacher Trainer. She's always excited to share the joy of teaching and guide apprentices as they hone their craft. "Teaching fits perfectly into my busy life as a full-time Mom," Jordana says. "There's nothing else I'd rather do than teach Pilates". Enjoying the good life in Beacon, NY and pregnant with her second child, she has no intention of slowing down. She plans to continue sharing her passion for Pilates and remain a student always. She holds a B.A. in English Literature from New York University.


Cancellations: If you withdraw from any program(s) you will automatically lose $150.00 processing fee. No refunds are issued for any reason. Students who choose to transfer programs or not to complete the training are still responsible for full payment of the course.

Power Pilates reserves the right to postpone any program or course at any time in the event of unforeseen circumstances such as war, riots, fire, flood, snowstorm, hurricane, typhoon, earthquake, lightning, explosion, financial limitations, strikes, lockouts, sickness, and acts of state or governmental action prohibiting or impeding Power Pilates from performing its respective obligations. Students will have the option of attending the alternate date or enroll in the same level of the Power Pilates Online Mat Academy.