The Reformer I program is the first level of Power Pilates reformer training. Each subsequent reformer program builds upon the information learned during this course. During this weekend you will learn to teach beginner level reformer exercises, include the mat exercises learned from Core Mat 1 on the reformer, and utilize Power Pilates teaching tools, philosophy, and teaching formula. Reformer I is required to progress to Reformer II. Students may also choose to enroll in the Full Comprehensive program at a discounted tuition upon completion of this program.

Language: English
FULL SCHEDULE
---
Retrofit London
Reformer I w/ Tess Whelan


Prerequisites: Power Pilates Core Mat I Training program.
---
YOUR TEACHER TRAINER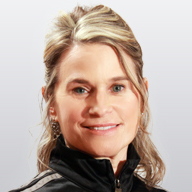 Tess Whelan
Tess' experience with the Pilates Method spans over 25 years. In 1986, after graduating with her Bachelor of Science Degree in Nursing, she discovered Pilates while performing in a Miami based student dance company. Pilates was love at first sight for Tess, and a move from Miami to Manhattan in 1989, eventually led her to practice in the historical Pilates studio called "Drago's Gym" where Romana Kryzanowska, the world renowned protege of Joseph Pilates, taught for many years. After returning to Florida in the 90's, she continued to practice Pilates regularly. In 1998, following a desire to share her enthusiasm for Pilates with others, she headed back to the Big Apple to become a teacher. She was trained by Romana Kryzanowska at Drago's earning her first certificate as a Second Generation Pilates teacher.

In 2005, she decided to become a teacher of teachers and subsequently completed a second training program with Bob Liekens of Power Pilates. She received her Power Pilates Teacher Trainer Diploma in 2009. Tess owned Pilates Premier Studios, Inc. in St. Petersburg, FL, an Affiliate Power Pilates Teacher Training and Continuing Education Center, until September of 2012. During this time, she was also an adjunct faculty member of St. Petersburg College providing continuing education courses for the Physical Therapy Department. Tess has worked with clients of differing age and physical condition ranging from children to the elderly, and from the de-conditioned or injured, to the professional dancer and athlete. Tess's knowledge as a nurse and performing artist assists her clients in experiencing the art and science of Pilates. She strives to maintain the classical spirit of the work and has been convinced time and time again that a classical approach guarantees results, empowers others and respects the life time work of Joseph H. Pilates. She recently relocated to Paris, and as Power Pilates' Regional Director of France, she will lead Power Pilates Educational Programs commencing in 2014. Tess is a PMA certified teacher.


Cancellations: If you withdraw from any program(s) you will automatically lose $150.00 processing fee. No refunds are issued for any reason. Students who choose to transfer programs or not to complete the training are still responsible for full payment of the course.


Rain Date: January 6-8, 2023
The Alternate/Rain date is the date the program will begin in the event of unforeseen circumstances such as war, riots, fire, flood, snowstorm, hurricane, typhoon, earthquake, lightning, explosion, financial limitations, strikes, lockouts, sickness, and acts of state or governmental action prohibiting or impeding Power Pilates from performing its respective obligations.