The Dual Mat program offers the Core Mat I & II weekends at a significant discount.

The Core Mat I (Beginner Mat level) program is the foundation of the Power Pilates method. Each subsequent program builds upon the information learned during this course. During this weekend you will learn to teach the 18 beginner level mat exercises and be introduced to Power Pilates teaching tools, philosophy, and teaching formula. Every student new to Power Pilates must start with Core Mat I.

During the Core Mat II (Intermediate Mat level) weekend, you will learn 12 intermediate level exercises, including where to add them within the sequence of the beginner level mat class, and continue to work on your teaching skills. Our students say that "everything starts to click" during the Core Mat II weekend. Completing the Core Mat II weekend expands the range of clients you can work with and strengthens your teaching ability. Core Mat I & II are required to progress to the Comprehensive program.

Language: English
FULL SCHEDULE
---
Power Pilates NYC
Dual Mat


The Beginner Mat course is the foundation of all our other programs; every program builds upon the information provided in this course. During this course you will learn 18 Beginner level Mat exercises and be introduced to Power Pilates Teaching Tools (i.e. philosophy, teaching formula, Power Pilates "Art of Teaching").

During the Intermediate Mat course, you will learn 12 Intermediate level Mat exercises, where to add them within the sequence of the Beginner level Mat class and continue to develop your teaching skills. These skills will help you to become an excellent instructor. Our students claim that "everything starts to click" during the Intermediate Mat course. Once you complete the Intermediate Mat course, you will have the ability to work with people of all ages and different fitness levels, at the same time.

Core Mat I: 1.2 ACE CECs
Core Mat II: 1.0 ACE CECs

Prerequisites: N/A
---
YOUR TEACHER TRAINER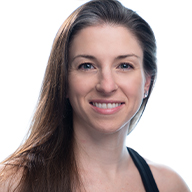 Meaghhan Maxwell
A lifelong dancer, Meaghan was first introduced to Pilates at a young age as a complement to her dance training. During college she began practicing Pilates more intensely, and found that many of her existing injuries and imbalances improved greatly. The more she learned about the method the more she was convinced of its merits, and she knew then that she wanted Pilates to be part of her career. After receiving a BFA in Dance from The Ohio State University, she moved to New York in 2008. In addition to teaching dance classes, Meaghan completed her comprehensive certification at Power Pilates, where she has been teaching since. Meaghan loves to work with a wide range of clients, and loves seeing how the Pilates method helps every person in a unique way, giving them each what they need. In 2020, Meaghan became a Teacher Trainer with Power Pilates, and is excited to share the art of teaching with people all over the world.


Cancellations: If you withdraw from any program(s) you will automatically lose $150.00 processing fee. No refunds are issued for any reason. Students who choose to transfer programs or not to complete the training are still responsible for full payment of the course.

Power Pilates reserves the right to postpone any program or course at any time in the event of unforeseen circumstances such as war, riots, fire, flood, snowstorm, hurricane, typhoon, earthquake, lightning, explosion, financial limitations, strikes, lockouts, sickness, and acts of state or governmental action prohibiting or impeding Power Pilates from performing its respective obligations. Students will have the option of attending the alternate date or enroll in the same level of the Power Pilates Online Mat Academy.