The Comprehensive training is our most extensive program and covers beginner, intermediate and advanced level exercises utilizing the Pilates apparatus - Mat, Reformer, Cadillac, Chair, Barrels, Ped-o-Pull and Magic Circle - as well as understanding how to work with Special Case clients (i.e. obesity, pregnancy, back problem, neck, knee, shoulder, etc.). You will continue to utilize and build the teaching tools learned during the Core Mat I & Core Mat II weekends. You will sharpen your eye for subtle exercise modifications and master the ability to work with people of all ages and fitness levels at the same time.

Language: English
FULL SCHEDULE
---
Bodylines Pilates
Comprehensive Program w/ Kimberly Casto


Prerequisites: Power Pilates Core Mat I & II Training programs
25 semi private or private Pilates apparatus sessions recommended, ideally with a classical trained instructor
Have a basic knowledge of anatomy as it pertains to movement
---
YOUR TEACHER TRAINER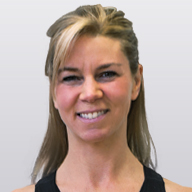 Kim Casto
Kim is trained in classical and contemporary styles of Pilates. Her teaching honors the original work by Joseph Pilates while respecting the individual needs of the client.
Certifications includes
2001 Polestar Pilates Comprehensive
2006 Power Pilates Comprehensive
2007 P.M.A. Certified
2010 Completed BBU: Reformer I, II, II; Cadillac, Barrels training
2012 Masters Program: The Pilates Center of Boulder, CO.
2017- Power Pilates Teacher Trainer
Kim has been teaching Pilates since 2001; continuing to educate herself by regularly attending workshops and taking lessons with premier instructors. In addition to teaching Pilates, Kim is A.C.E. Personal Training, TRX, and Balanced Body Barre certified. As the Owner of Bodylines Studios, she strives for excellence in providing the best Pilates West of Boston!


Cancellations: If you withdraw from any program(s) you will automatically lose $150.00 processing fee. No refunds are issued for any reason. Students who choose to transfer programs or not to complete the training are still responsible for full payment of the course.

Power Pilates reserves the right to postpone any program or course at any time in the event of unforeseen circumstances such as war, riots, fire, flood, snowstorm, hurricane, typhoon, earthquake, lightning, explosion, financial limitations, strikes, lockouts, sickness, and acts of state or governmental action prohibiting or impeding Power Pilates from performing its respective obligations.