ESCAPE TO PUNTA CANA
SEPTEMBER 24 - 30, 2017

Take your first step to becoming a fully certified instructor by learning to teach Pilates in the Caribbean. Punta Cana, known for its beautiful beaches and clear water it is the perfect backdrop to begin your journey with Power Pilates. Expect a rigorous training day strengthening your abdominals and challenging your mind. Take part in water sports during free time or unwind at night with a walk on the beach. Courses taught in English and Spanish.

INFORMATION
ABOUT CORE MAT I and II TRAINING

The Core Mat I program is the foundation of the Power Pilates method. Each subsequent program builds upon the information learned during this course. During this weekend you will learn to teach the 18 beginner level mat exercises and be introduced to Power Pilates teaching tools, philosophy, and teaching formula. Every student new to Power Pilates must start with Core Mat I.

During the Core Mat II training segment, you will learn 12 intermediate level exercises, including where to add them within the sequence of the beginner level mat class, and continue to work on your teaching skills. Our students say that "everything starts to click" during the Core Mat II weekend. Completing the Core Mat II weekend expands the range of clients you can work with and strengthens your teaching ability. Core Mat I & II are required to progress to the Comprehensive program.
Language: English & Spanish

PILATES MENTOR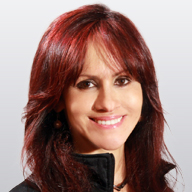 Virginia Acosta
Virginia Acosta, a native of the Dominican Republic, is the owner / director of Control Pilates Studio and the Regional Director of Power Pilates in the Dominican Republic.

For over 25 years Virginia has been evolving her exercise palate. As a child she began her love of movement with classical ballet, she had an artistic inclination towards dance, music and performing arts. Her passion grew as an adult focusing on yoga and contemporary dance; she studied various techniques including Horton, Limon and Graham. Virginia also studied Business Administration, specializing in advertising Media Placement. She worked for major advertising agencies in the Dominican Republic as well as on television as a TV news reporter. While working for the news station she put dance on hold for three years. "It was amazing to be a reporter but it was not my passion, so I returned to dance."

After several years the dance company she belonged to closed. She searched for a way to continue to train her body and after trying all traditional ways in a gym and failing she met a Cuban dancer and Pilates' teacher visiting the Dominican Republic. Virginia took a course with her and from the very first day she was hooked. She researched a variety of Pilates programs online but "like an arrow to my heart I fell in love with Power Pilates". In 2004 she earned her certificate as a Power Pilates Instructor, introducing the method in her country; she pioneered the first Pilates studio, and continues to be the leader in teaching Classical Pilates in the Dominican Republic. She received her PMA Certification in April 2011.

Virginia lives in the Dominican Republic with her husband and four sons. She feels fulfilled in life and work as she has devoted herself to her passion sharing the teachings of Pilates with others.
LOCATION
Iberostar Hotels & Resort in Bavaro, Punta Cana
The newly renovated, 5-star all inclusive IBEROSTAR Bavaro Suites is tucked away in a coveted location between lush tropical gardens and the incredible Playa Bavaro, an amazing beach with powdery soft white sand and intensely rich turquoise waters. Located a mere 12.4 miles from Punta Cana International Airport, the IBEROSTAR Bavaro Suites forms part of the IBEROSTAR Bavaro Resort, comprised of four IBEROSTAR hotels in Playa Bavaro. The hotel offers 75 2-story bungalows, shopping center, pharmacy, ATM, nightclub, casino, internet kiosk, lounge, spa, fitness center, and large pool area overlooking the beach. The untouched beauty, unbeatable facilities and, above all, courteous staff of this hotel and its surroundings, make the IBEROSTAR Bavaro Suites an unparalleled choice for couples and families to hold their events, conventions, and unforgettable weddings while vacationing in the Caribbean.

For special rates contact the Iberostar Hotel and mention Power Pilates Escape.