During the Core Mat II weekend, you will learn 12 intermediate level exercises, including where to add them within the sequence of the beginner level mat class, and continue to work on your teaching skills. Our students say that "everything starts to click" during the Core Mat II weekend. Completing the Core Mat II weekend expands the range of clients you can work with and strengthens your teaching ability. Core Mat I & II are required to progress to the Comprehensive program.

Language: English
FULL SCHEDULE
---
YogaTi Salud
Core Mat II w/ Michael Butcher
Prerequisites:
Power Pilates Core Mat I Training program.
---
YOUR TEACHER TRAINER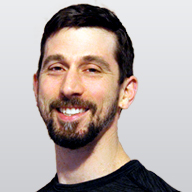 Mike Butcher
Mike Butcher is an accomplished Pilates instructor at BMB Pilates Studio in his hometown, Cincinnati, OH. Dedicated to the growth of his clients, he structures his classes to encourage clients to own their workouts, take responsibility for their movements inside the studio as well as carry their practice into daily life. His lifelong interest in sports and movement lead Mike to the Brazilian fight/dance called Capoeira while he was attending at the Ohio State University. It was in 2007 while teaching Capoeira that he was introduced to Pilates. With this initial training Mike began to understand the importance of core driven movement, alignment and balance in exercise and in life. That same year he completed Power Pilates mat training and began teaching at BMB under the tutelage of studio owner, mentor, and friend Julie Cordier. In addition to being a sought after teacher, Mike is an avid student. He completed the Power Pilates graduate program in 2015 and in January became certified as Power Pilates Teacher Trainer.


Cancellations: If you withdraw from any program(s) you will automatically lose $150.00 processing fee. No refunds are issued for any reason. Students who choose to transfer programs or not to complete the training are still responsible for full payment of the course.

Power Pilates reserves the right to postpone any program or course at any time in the event of unforeseen circumstances such as war, riots, fire, flood, snowstorm, hurricane, typhoon, earthquake, lightning, explosion, financial limitations, strikes, lockouts, sickness, and acts of state or governmental action prohibiting or impeding Power Pilates from performing its respective obligations. Students will have the option of attending the alternate date or enroll in the same level of the Power Pilates Online Mat Academy.